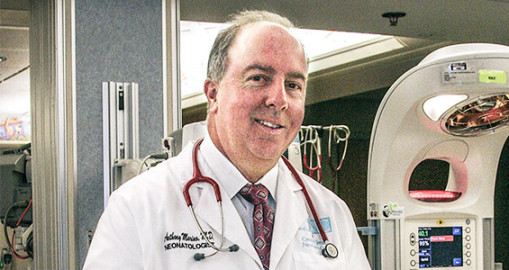 Dr. Anthony Marino founded Central Jersey Newborn Care in 2011. He graduated Rutgers University in 1980 and received a B.A. in Zoology and Chemistry. Following college he attended the Autonomous University of Guadalajara and completed his medical education at Robert Wood Johnson Medical School by completing a Fifth Pathway and obtaining his MD degree. He stayed at Robert Wood Johnson Medical School and completed his residency in Pediatrics (1989) and fellowship in Neonatal-Perinatal Medicine (1992).  He is board certified in both Pediatrics and Neonatal-Perinatal Medicine.
Dr. Marino has received the March of Dimes Man of the Year award in 2012 for his career dedication to sick and premature newborns. Dr. Marino was also named named one of the top neonatologists in NJ in 2014.
Dr. Marino is a lifelong NJ resident and has lived in Skillman with his wife and 4 children. He enjoys playing golf and rooting for his favorite teams, the Yankees, Giants, and Jets.  And whoever is playing the Eagles.